Let's talk about what makes Finforz who we are today!
Theja P & Priyanka Allu | July 22
This series is a part of our 'Work for Yourself, Not for Company' culture code; what it means for us and our customers, how it was formed, how we practice it.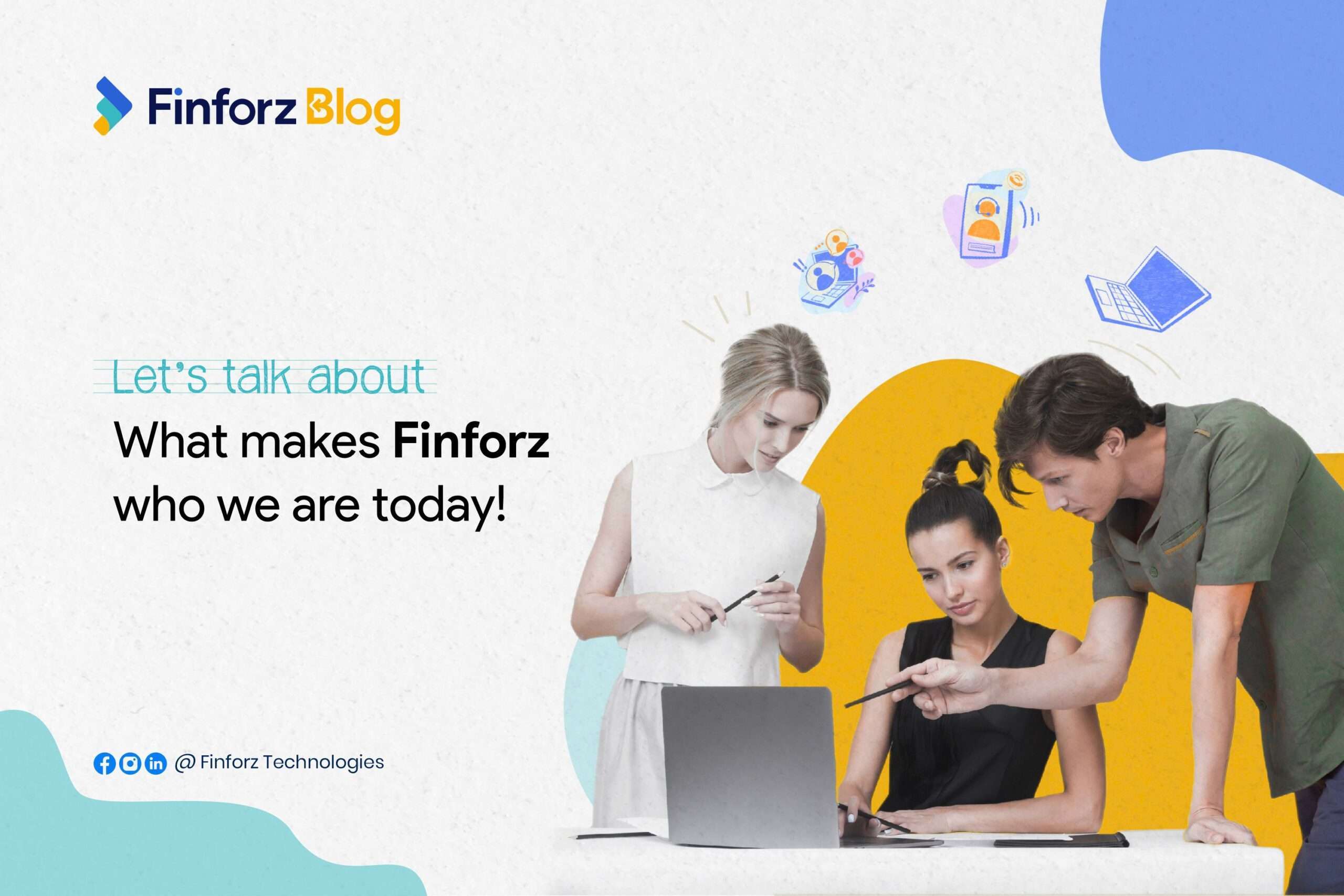 Finforz did not have a rule book or a well-planned company culture when it first began. It was Mr Rathnavel Anandhakumar (fondly called as Ratnaa), founder of Finforz Technologies whose ideas on how a workplace must be and life motto – 'Work for Yourself, Not for Company', that gave birth to a culture that is now followed by all of the company's employees.
There are many reasons behind the success of a company; the projects we sign up for, our clients, our employees, but more so importantly the culture! Sensing my curiosity, he added,
"As we tasted success along the way, and turned to look back at our journey, we observed that it is our belief that turned into a culture, standing tall and strong throughout the ups and downs.
We were clear from day one on how our company works, where there are no biases based on seniority or educational background. Developing a healthy and friendly relationship between employees and the business has always been a priority for Finforz. This whole culture revolves around its 3 core values which is to Be Sincere, Create Value and Respect Each Other. The success behind a company is a happy employee."
Happy Employee = Happy Customer
Culture of Finforz is customer first, to never over-promise to its customers and never experiment with anything at the expense of customer delivery. The employees are trained in a way that they have this culture as a thumb rule when servicing their customers. It strives to provide great expertise to its clients in the banking sector by developing the best software.

As an employee, he (Ratnaa) was looking for an opportunity to grow and pursue his passion in his early years to benefit the organization as well self. So, when he started his own business, he knew exactly what not to do. He sought to break the conventions of a regular company, where employees are not given enough freedom to express and experiment on new ideas and are only expected to do the tasks allotted to them.
"When we started this journey, we were a small crew having deep passion and love for what we do. We fought for nearly two years to establish the company's stability and market position. Despite several setbacks, we never gave up. The idea of creating a workplace for people like me who want to grow and learn spurred me to work harder." Ratnaa said.
With just following his beliefs, he now has created a workplace where the main motto is instilled deep in the minds of every employee which is to 'Work For Yourself and Not For Company' and in those lines, to be Thankful to our roots, Upskill ourselves and Uplift others on our way towards the road that leads to success.
Finforz tries to understand its workers' expectations at all levels and to give opportunities that meet those expectations. This applies not only to their job commitments but also to their personal lives. The organization attracts exceptional individuals from a variety of backgrounds and creates an environment in which they may develop and flourish. Employees' ideas and opinions are never dismissed at Finforz; rather, they are encouraged and valued.
When people sense they are respected and treated seriously, they work more for the cause, and working hard comes only when the platform is comfortable for them. Finforz operates on the same concept. It creates a comfortable setting for everyone to get together and work without any hassles.
This style of living and working for Finforz and its people grew over time into what is today known as its culture code. When the culture and values of an organization is rooted deep, the outcome of all the processes will be fruitful.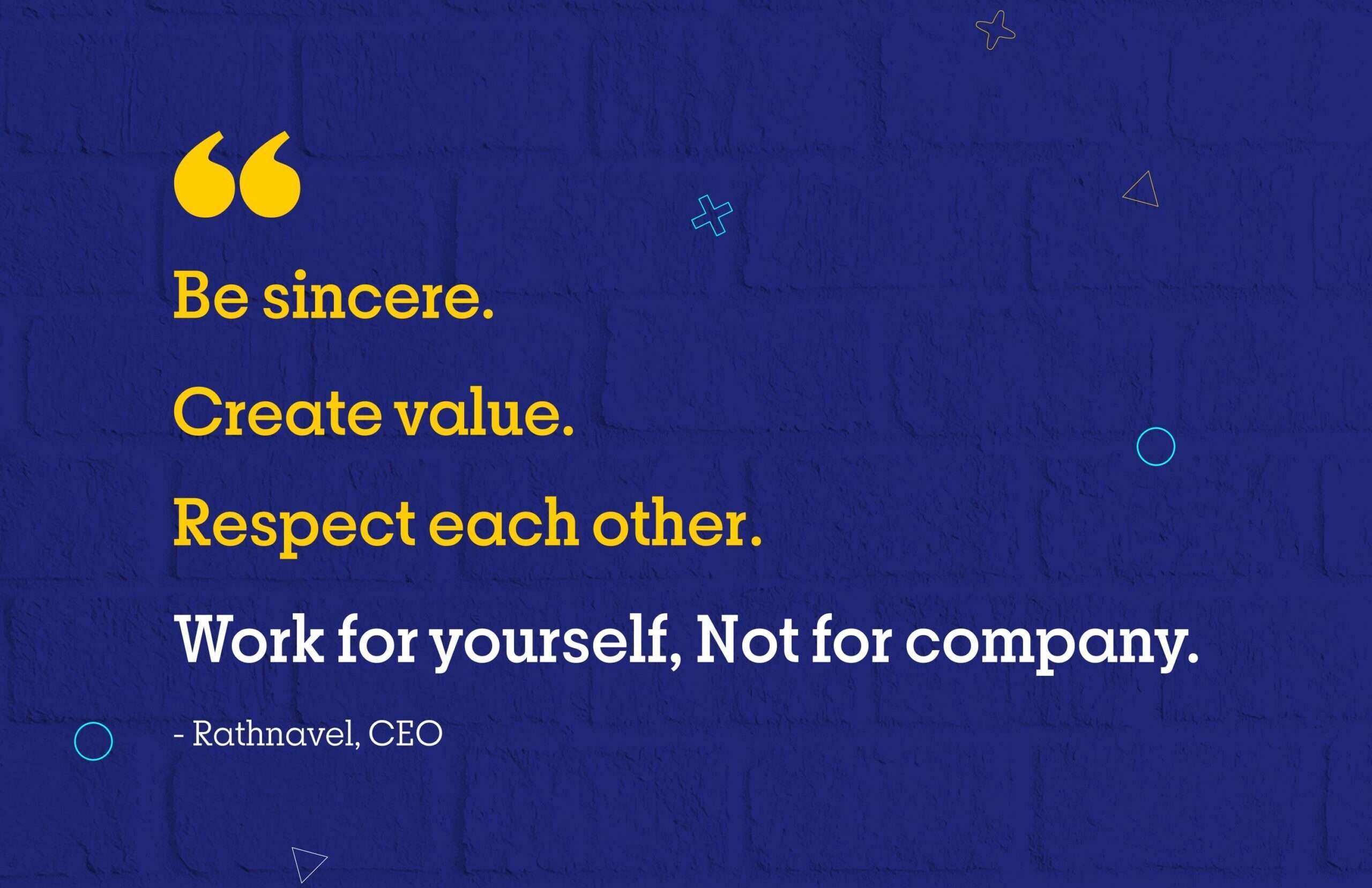 How we are encouraging our employees to 'Work for themselves'
At Finforz, we always encourage our employees to 'Work for themselves', by not just giving them a right platform, but also offering with right opportunities. The organization provides employees with numerous training and programs to help them improve their technical and soft skills.
To help them develop and upskill their technical skills, Finforz offers 'Scholarship Program' that covers all the expenses and facilities, without any bond or agreement. Employees are always rewarded and appreciated for their achievements and for going above and beyond their limits to work and learn for themselves.
At Finforz, we lay no emphasis of language proficiency, but rather promote clear conversations, communication. We believe that it is the work that speaks for itself, and to lead a team communication is the key.
All these measure come down to our base belief that trusts that when employees grow, we grow. Every relationship in this world is a give and take policy. While we emphasize more on work, learning, and upskilling we also believe in life beyond work.
Our aim is to not be limited just to work, but beyond. Our employees, our people are our family. And just like a family we aim to support our people in every possible ways.

At Finforz, we say having a work-life balance is important as much as employees working for a company. Workplace is the second home where we spend the most of our time in life. A happy workspace is important for a happy and healthy lifestyle. And for the same we take adequate measure to ensure that our people are happy and healthy physically, mentally, and emotionally. Finforz is an equal opportunity space in terms of gender, sexuality, racism, caste and creed.
Furthermore, Finforz supports mental health and an active lifestyle. To implement the same, Finforz encourages its people to walk 8000 steps every day for a month under the 'Walkthon Challenge' program and rewards with cash prizes. Conduct yearly Outstation team building tours, Movie nights, Fun Fridays, Tournaments, Sports and Celebrate all the festivals and birthdays together, like one big family!